Greetings Agents,
Our highly XM-sensitive Researchers are hearing it from the XM Network. It is a message for Peace. Our Researchers believe that the message was brought to life by the shared aspiration of numerous Agents around the world, rather than any exogenous force. From Thursday 15 September, 16:00 UTC to Monday 26 September, 16:00 UTC, a single-tier medal Peace Link Challenge 2022 will be awarded to Agents creating 200 Links and thus building connections between minds.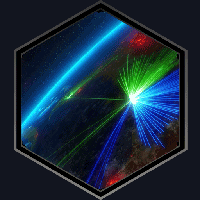 A new metric Peace Links Created will be added to your Agent Profile for the duration of Ingress Peace Week to help you monitor the number of qualified Links you have created.
Superposition Winning Faction Bonus

By winning the Superposition Anomaly Series, all Agents in Resistance have earned a boost during this event. Each Link they create will be taken as 1.25 Links in the event metric. Please note that Faction status is counted at the time of Link creation when calculating an event bonus, so Faction changes before or after Link creation will not change the Peace Links Created metric.
During this period, the Ingress Scanner is expected to exhibit the following behaviors:
Kinetic energy distance for Very Rare Heat Sink reduced from 8km to 4km
Links shorter than 8km in length can be created under Fields (all other preconditions still apply)
Portal Hacks will yield more Portal Keys
8-minute Drone cooldown
New Glyph Sequences related to Peace
In addition to the earned medal, the NIA would take this opportunity to introduce a brand new Beacon - Peace. Light it up to send a message of Peace to Agents around you.
Also available during the event period in the Ingress Store:
Free Peace Week Bundle (0 CMU; single redeem; for accounts older than 30 days)

1 Peace Beacon; 9 Rare Heat Sink

Peace Beacon (1,000 CMU)
As always, please remember to be aware of your surroundings. We encourage players to follow local health and safety guidelines when playing Ingress (such as wearing masks and maintaining at least six feet/two meters of distance from other people). For the latest on in-game events and feature updates, be sure to check COMM > NEWS.
— The Ingress Team